Some NHS services cut despite pledge, says ex-minister Paul Burstow
'I will not pretend there are not places where services have been cut,' says Lib Dem who lost health minister job in reshuffle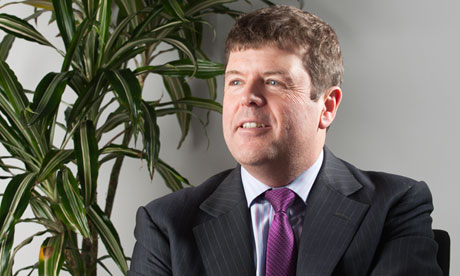 A former health minister has admitted that NHS services have been cut despite the prime minister's pledge at the last election to protect the front-line "at all costs". Paul Burstow said he could not deny that some
mental health
services had been downsized under the coalition.
The admission followed the release of figures by the Department of Health revealing that overall spending on adult mental health services has fallen in real terms for the first time in a decade.
The fall in funding comes despite David Cameron's high-profile launch this year of a "dementia challenge" to bring improvements in care. It also appears to fly in the face of his pledge before the last general election to protect frontline services within the NHS.
Burstow, a Liberal Democrat MP who lost his job in Cameron's reshuffle this month, told the magazine
Health Service Journal
: "I will not pretend there are not places where services have been cut and there has been a diminution of service. There is anecdotal evidence of places that will have made that kind of service reduction, but others have re-engineered their services to be delivered in the community."
After inflation, expenditure fell by 1% in 2011-12, dropping by £65m to £6.63bn, according to reports published by the department of health. Older people's mental health was hit hardest, seeing a real-terms spending decrease of 3.1% to £2.83bn in 2011-12.
Burstow, who is MP for Sutton and Cheam, said the picture was mitigated by increased investment in talking therapies and the improving access to psychological therapies programme, but Mind, the mental health charity, said it had become increasingly concerned about funding.
Its chief executive, Paul Farmer, said: "This chimes with what we've heard from many of our local Minds, which have had their funding reduced when we know demand for mental health services is increasing. Last year calls to Mind's infoline rose by 18%. People also face cuts to local authority funded services and welfare that they rely on. Now more than ever it's important that we invest in mental health."
Shadow health secretary Andy Burnham said Cameron had been found to have repeatedly broken his promises. He said: "David Cameron has cut the NHS budget two years running and we are now seeing the consequences of his broken promise.
"Under pressure, the NHS is reverting to its default position and relegating mental health to the margins. This is the wrong response. Even within a reduced NHS budget, the demands of 21st century living require that mental health is made a bigger priority".
Burnham added: "It's a bit late for Paul Burstow to sound off about this now when, as a minister, he could have done something to stop it. That's the problem at the heart of this coalition - each side blaming the other and no one taking responsibility."
A Department of Health spokesman said: "Investment in psychological therapy has doubled over the last three years from £197m to £386m and continues to rise. This is allowing people to access psychological therapies earlier, which is driving up standards in care, reducing hospital admissions and delivering long-term savings. However, we need to continue to improve the commissioning of mental health services. That's why we recently set out how organisations can make best use of the levers and powers available to them, to improve the mental health and wellbeing of local people in the most effective way."